Life Blasters is a motorsports lifestyle page dedicated to showcasing exciting and unique events throughout the country.  We were thrilled that they decided to showcase our shop in one of their articles.  Big thank you to Eric Delaney for all the great words.  Check out their page for many other articles that will keep you entertained for hours!

RM Motorsports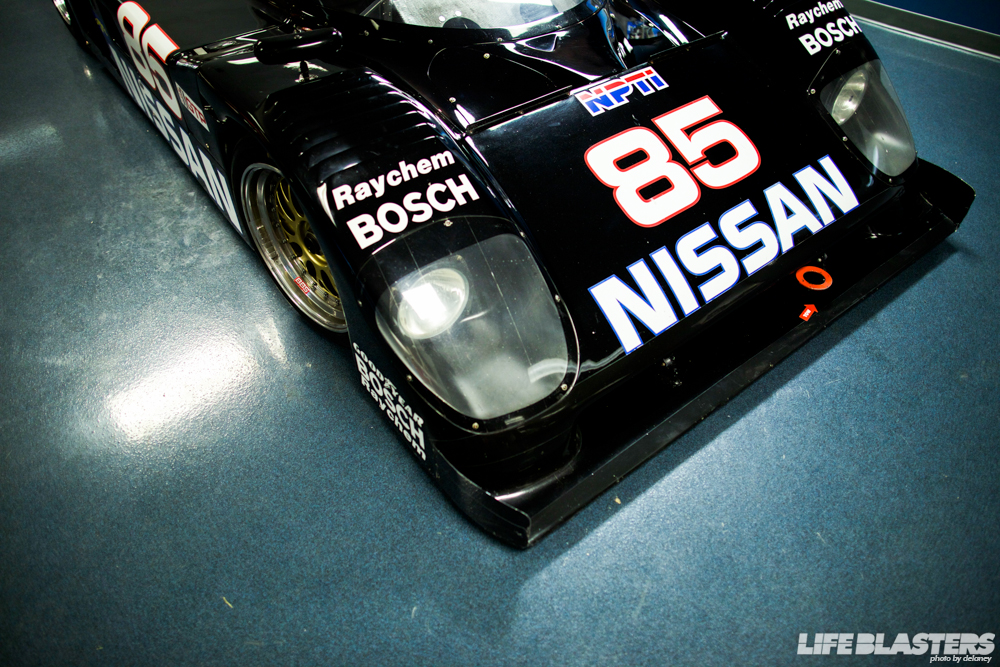 A few weeks ago a friend of mine sent me a text asking if I was busy on December 6th. I opened the attachment and saw it was for RM Motorsports, local company that specializes in restoring historic race cars.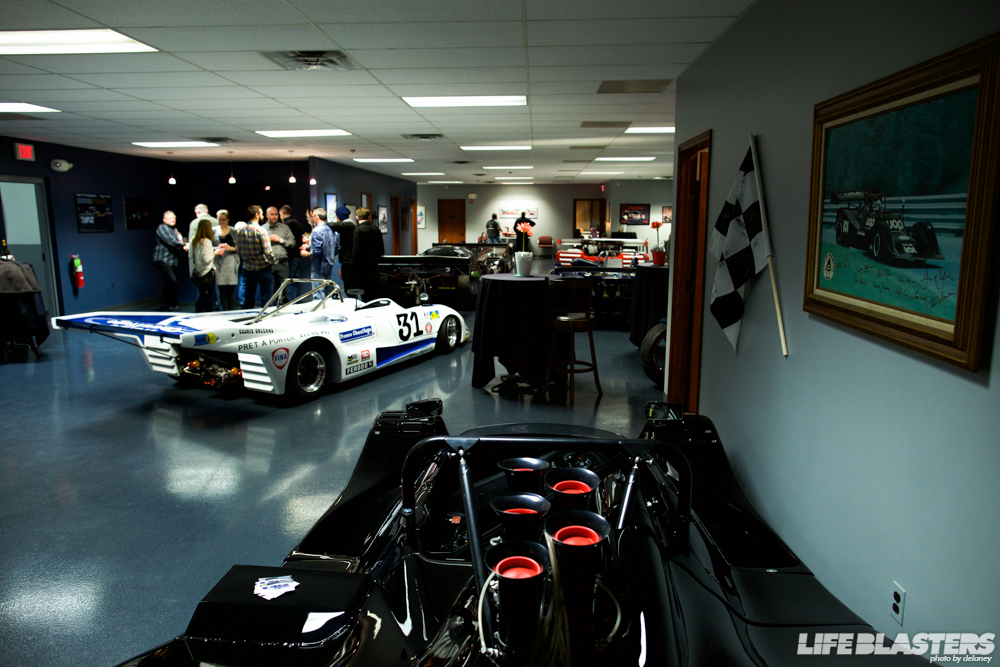 I've read about their cars and work, but never actually got to see inside their shop. There was no way I'd miss this. They've had cars in the Monterey Historic races and even the Le Mans classic, not to mention their normal car restoration. It's an amazing place.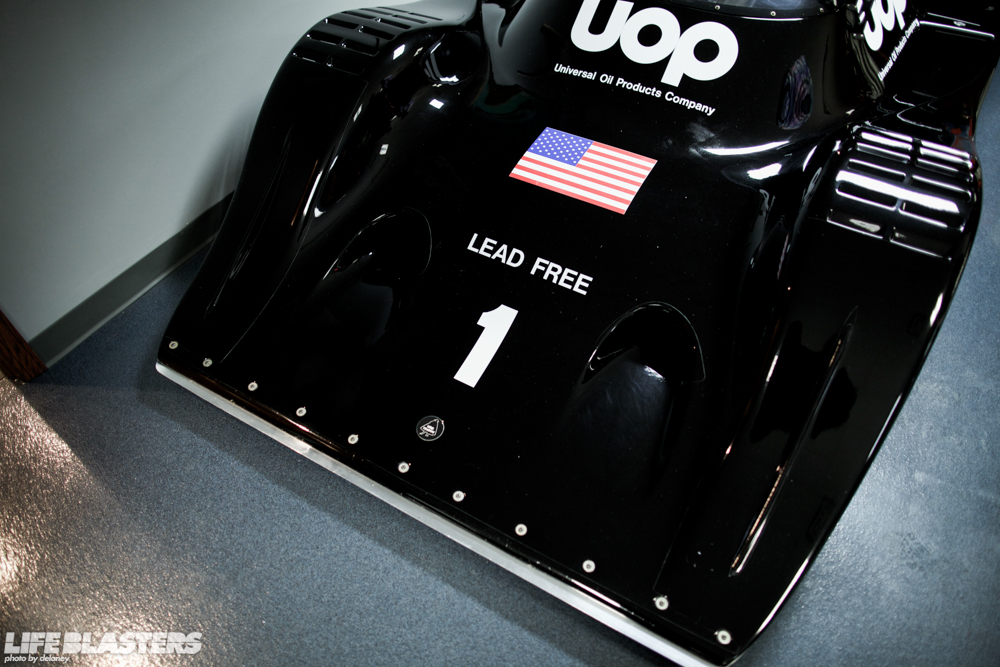 There were two cars that absolutely blew my mind. This Shadow DN4 was one of them. If you haven't heard of Shadow, look them up. They've made some of the craziest looking race cars in the '70s. This one for example weighed 1850 pounds, but had a 510CU V8 pushing 998 horsepower.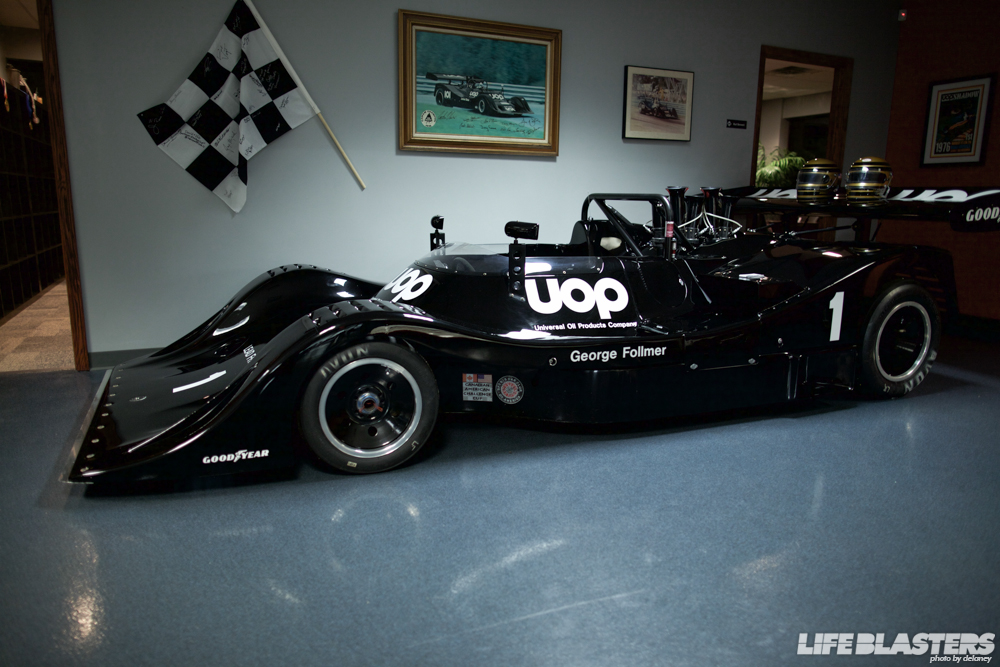 This one was driven by George Follmer in 1974 where he finished second to his teammate Jackie Oliver, winning the championship for Shadow. It's still used to this day for historic races, these days raced by RM. Getting to see a Can Am legend like this up close is one of those things you never really get over.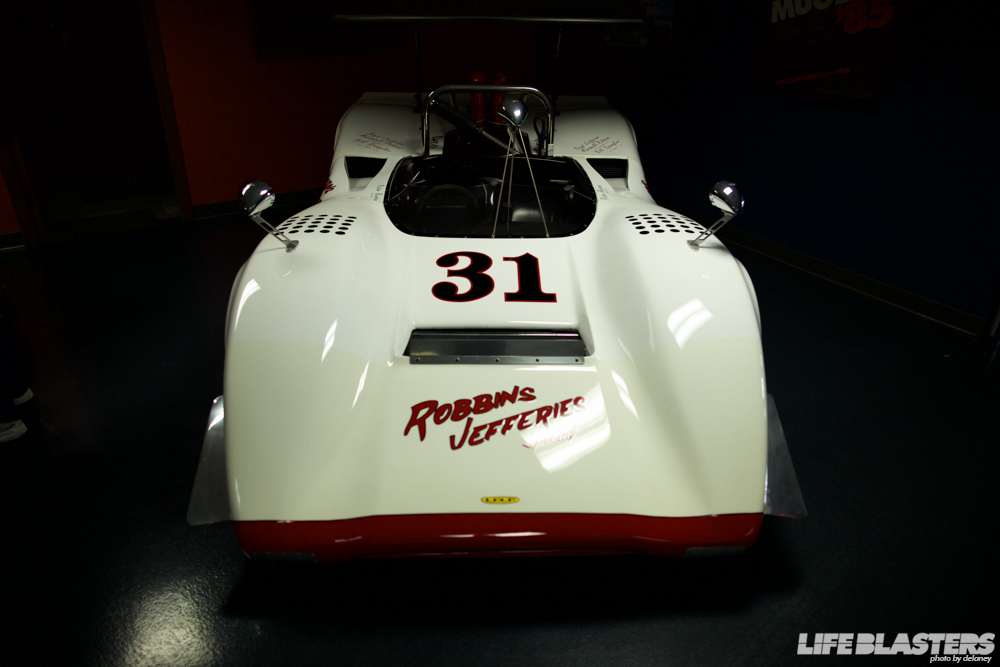 Back in the corner was this Peter Revson Lola T163 from 1969. It raced in the '69 and '70 seasons in Can Am, with a privateer racing it in 1970. It then traded hands again, racing from 1973 to 1975 on and off with a few wins mixed in. In 1981 it had undergone a few body modifications, including a Jaguar D-Type windscreen, then registered to drive on the street. It changed a few hands again, then in 1990 it was sold to a buyer in Japan, but came back to the States in '92.  Finally RM got their hands on it and converted it back to the original 1969 configuration, with the high wing set up. That sounds like a made up story, but you can read about it here.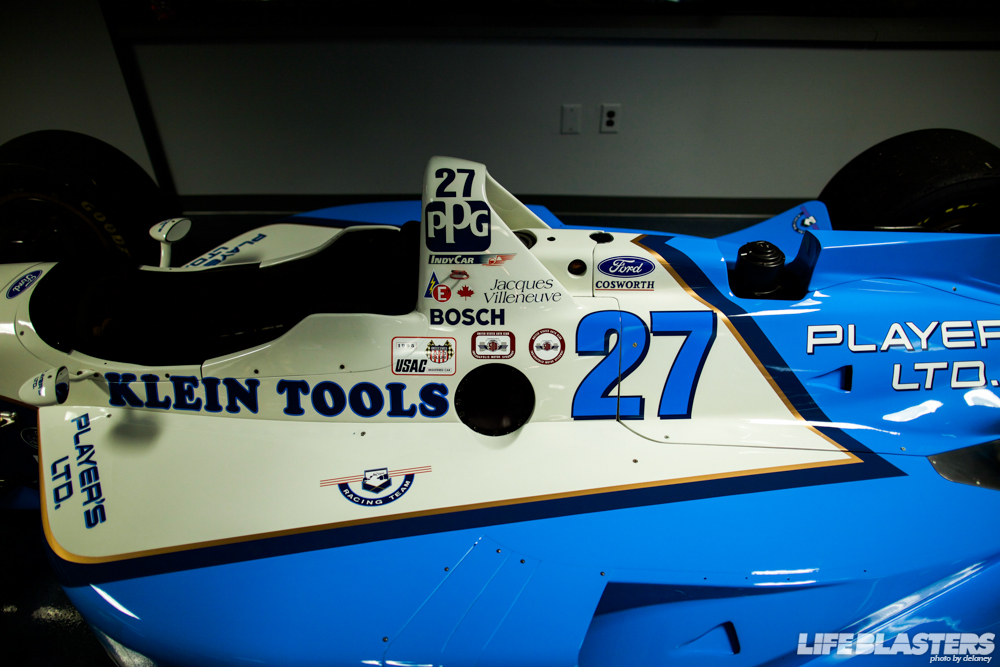 Along with the Can Am cars, a few open wheel cars were in the main room. This Jacques Villeneuve Indy Car from 1995 reminded me of my childhood when every weekend my parents would have Champ Car on TV. These particular cars are some of my earliest memories of racing.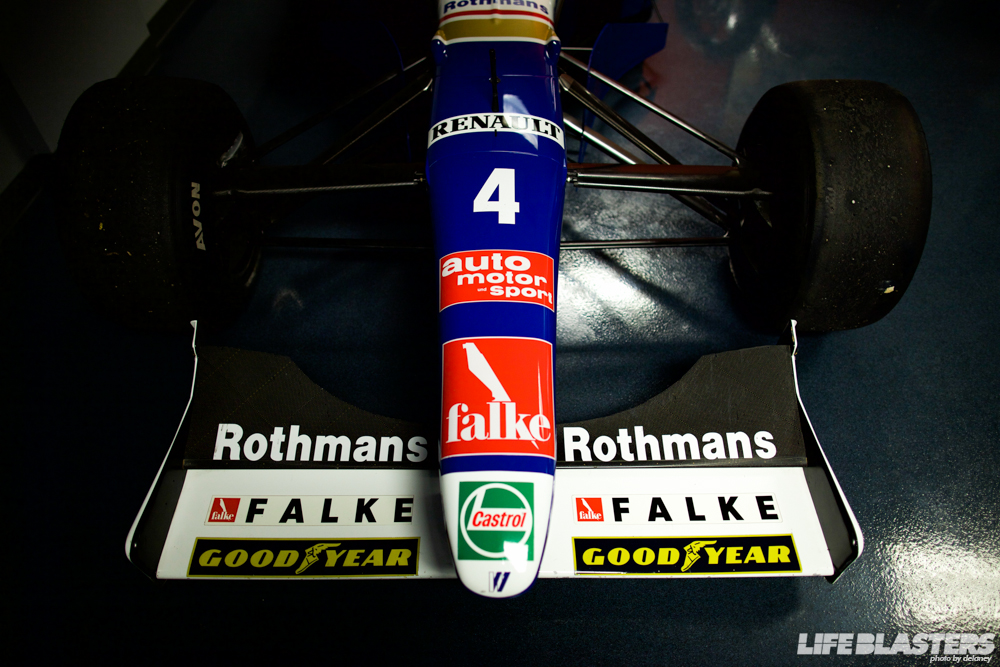 And right behind that was Heinz Harald Frentzen's F1 car.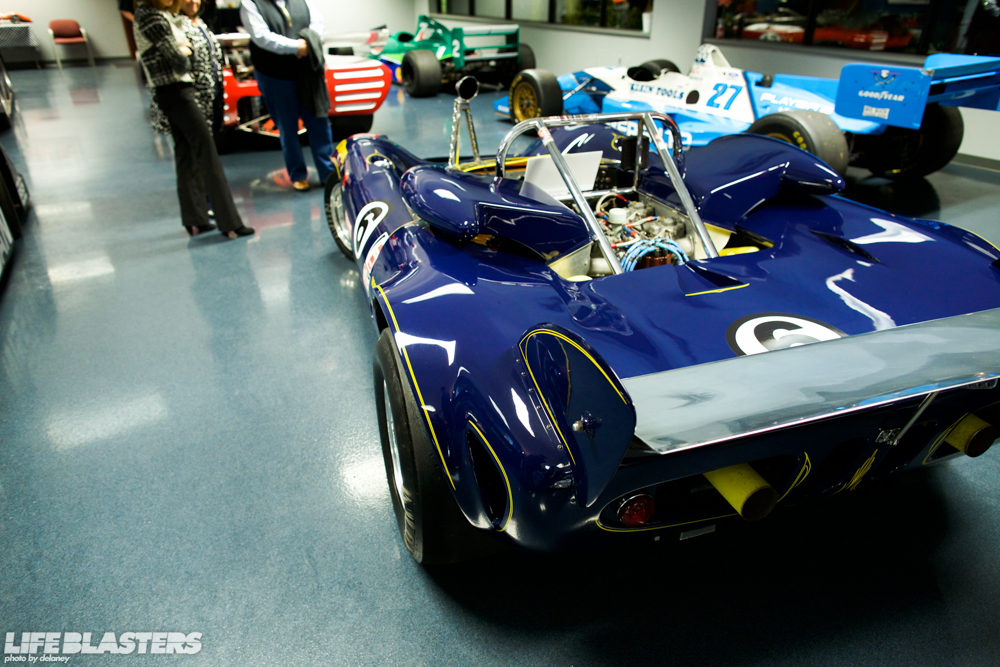 If the Shadow wasn't enough, this Lola T70 Mk.3 Spyder campaigned by Penske was just overkill. There's always that one car that defines a discipline. Wether it's the Ferraris and Formula 1, Audi and Le Mans, Martini and WRC, Sunoco and Penske defines American racing in the '60s and '70s. Between their Camaro in Trans Am , their Sunoco Ferrari, and their 1500HP Porsche 917/30, Penske and Sunoco are American racing. The fact that there are cars like this just sitting mere inches away from you with all that history is overwhelming. To some it probably sounds weird, but seeing cars like this in the flesh is truly awe inspiring, with not only their history, but their line, and what was the top of the line technology and safety. It's amazing how far cars have come over a 40 year span. From this, to cars like the Audi R18 that are just insane in every aspect. But when it comes down to it, I will always take the classics.

So with that rant over, we move to the workshop. This area was filled with cars that were in the process of getting work done. While the cars up front all had little boards with their history on them, in the back they were just left as is in the middle of work. This Gulf Mirage had no info anywhere, and was literally just a shell waiting for a chassis. From what I could find, this car was made to run in the 1973 24 Hours of Le Mans with a Ford-Westlake V12. But due to poor lap times and reliability issues, the project was cancelled. Which probably explains why there aren't too many results for Gulf Mirage M6 Coupe on Google.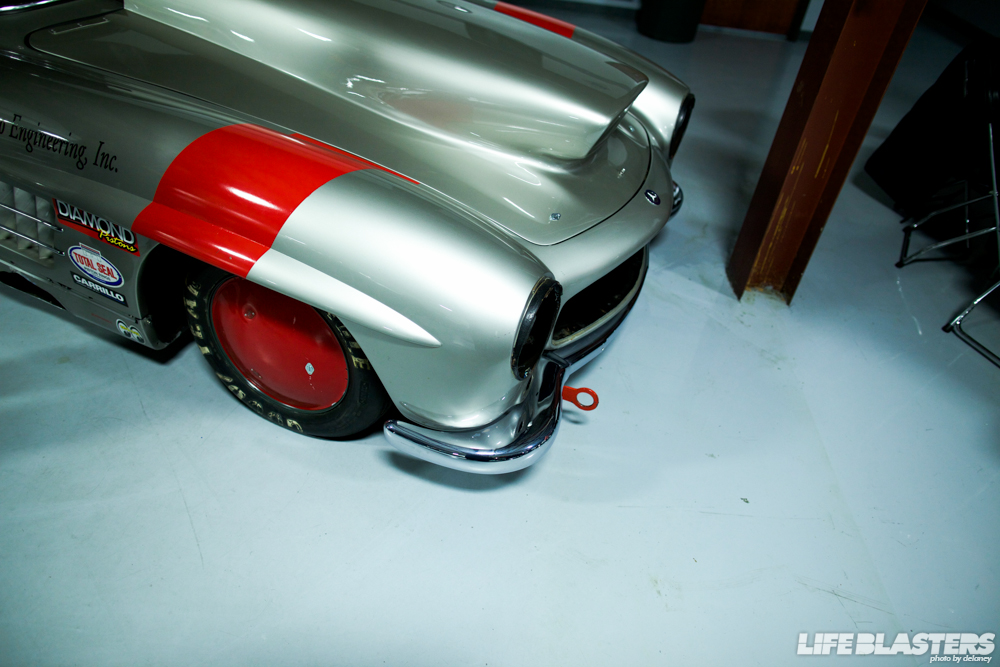 By far the most random car had to be this Mercedes 300SL land speed car. And yes, it's a real 300SL. The story starts in 2005 when John Fitch, a Mercedes factory driver in 1955, raced in Le Mans, Sebring, has a class win in the Millie Miglia, and is one of the first American pilots to shoot down a Messerschmitt ME262, wanted to break the 2.0-3.0 Litre Grand Touring Sport record and Bonneville. A Detroit businessman decided his 300 would be one to do it. But due to fuel injection pump problems, the record never fell. The car still runs on the flats, with a video released in 2013 by Petrolicious with the owner and now driver. Check out the video here for a glimpse into the mind of a man who races an almost priceless Mercedes on the salt flats.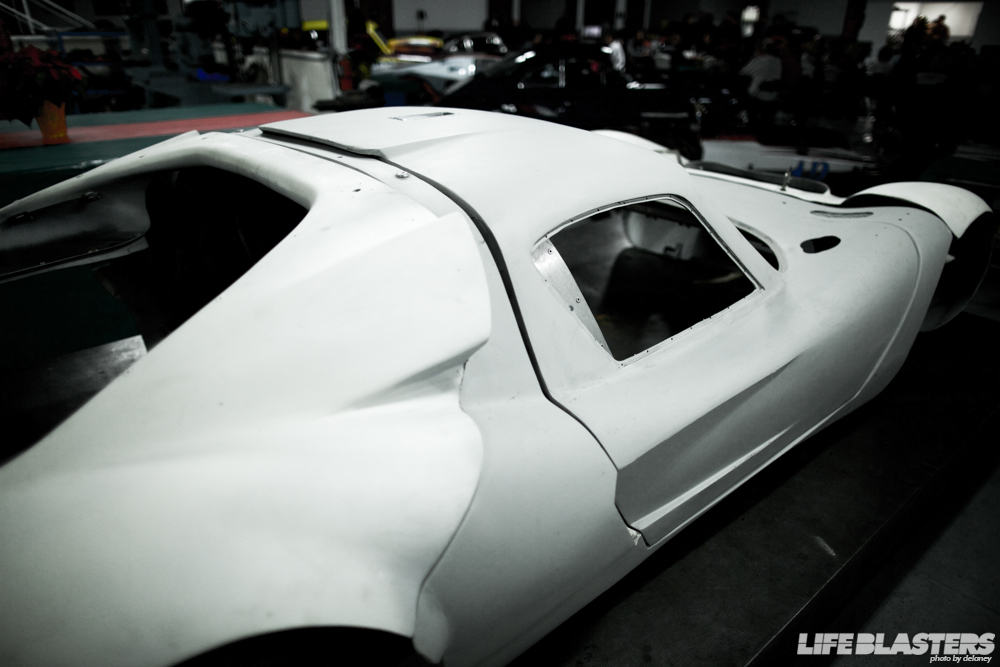 There was also this fiberglass shell of an old Ford. It's the shell of a Genie Ford Coupe from 1965. The car was raced in United States Road Race Championship, the series before Can Am, as a spyder. After seeing the success of the GT40 and Lola T70 Coupes, a racer in California named Dave Ridenour decided to make his Genie into a coupe. Ridenour was killed in '66 while racing sprint cars, and his coupe was sold and replaced with the usual open top body. I'm not too sure the story behind this one, but I'd assume it's either the original body in for a restoration, or a mold of the original remade to race again.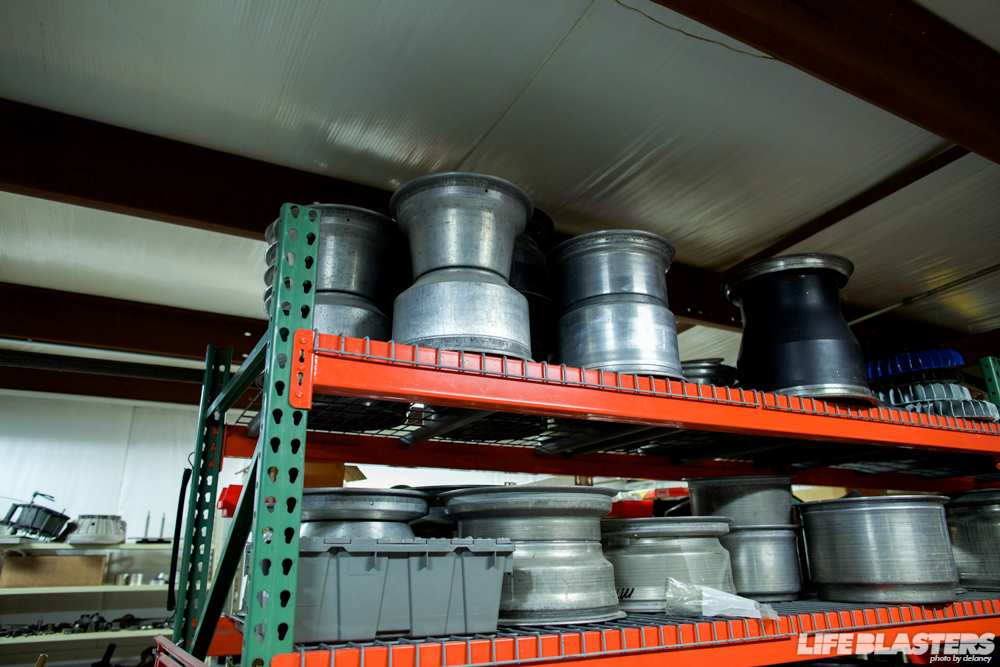 While the cars were cool, the upstairs parts landing was incredible. Every possible thing you'd need to rebuild an old race car were put away up here. It seemed like Can Am cars were a main focus of RM, so many of the parts looked to be from Can Am. These wheels just show how crazy cars were back in the '70s. Some of the wheels off the Shadow in the main room looked more like 15inch tall hourglass.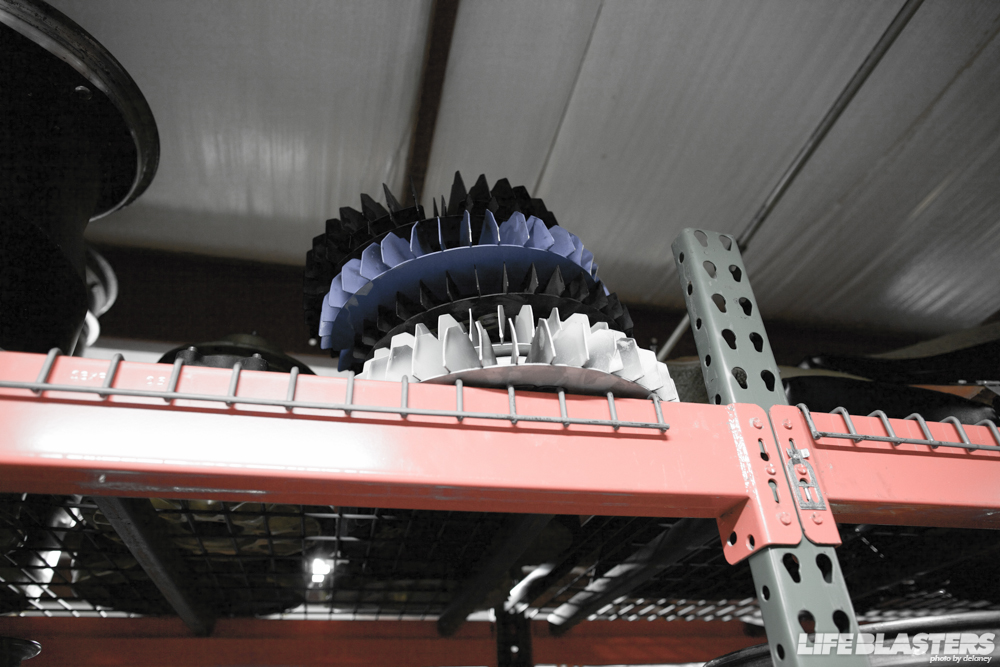 There was also a stack of BBS Turbo Fans that were mighty tempting. Not to mention the other hundred or so wheels from every series between Can Am and Indy Car.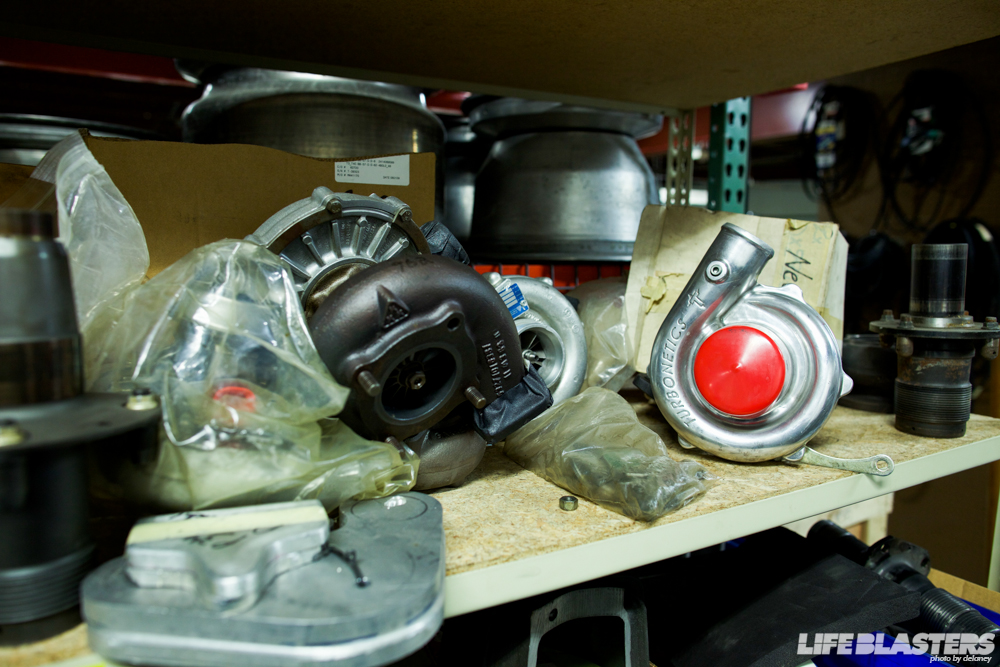 The parts that were just laid out waiting looked like a tuner's dream. These turbos were just waiting for the next Big Block Chevy or flat six. My dad said you know you're deep into the car scene when it's exciting to look at a bunch of parts on a self.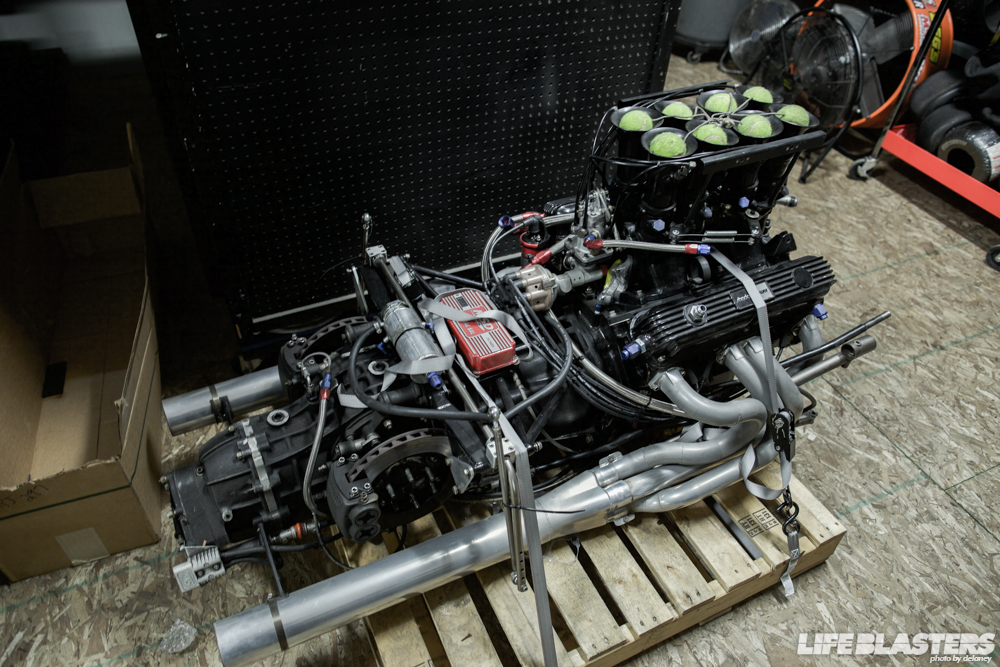 On another upstairs area was this Chevy V8 out of another Shadow. How can you not love a massive V8 just strapped on a pallet waiting for its next chassis to power?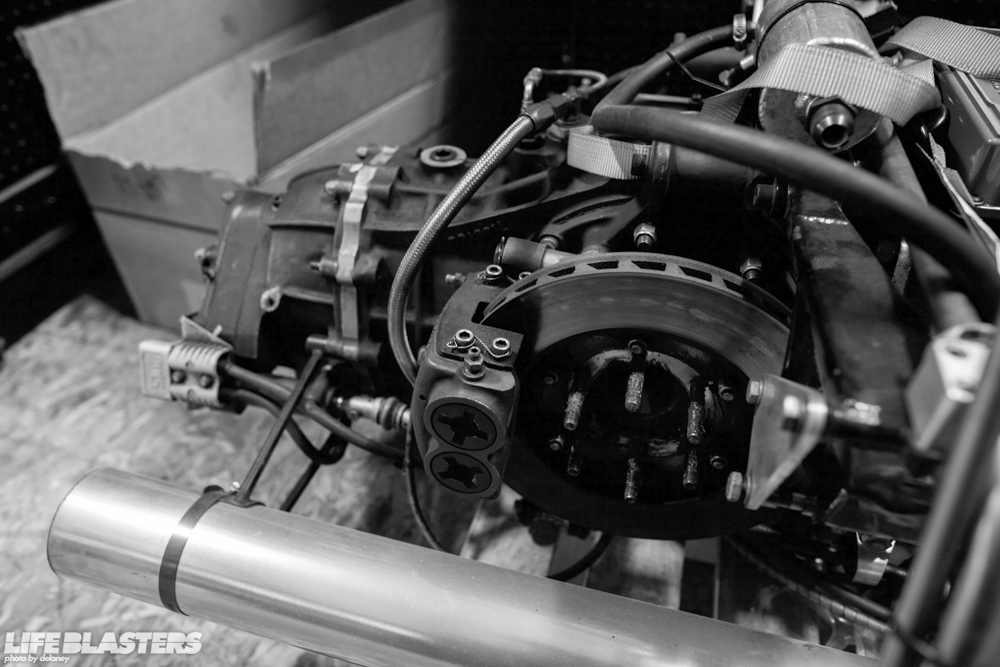 The coolest part was the inboard brake setup in the rear. It's one of those things that teams would do to try to get every last bit of performance out of the car. Between that, and the design of the Shadow's rear wheel, it's a perfect set up.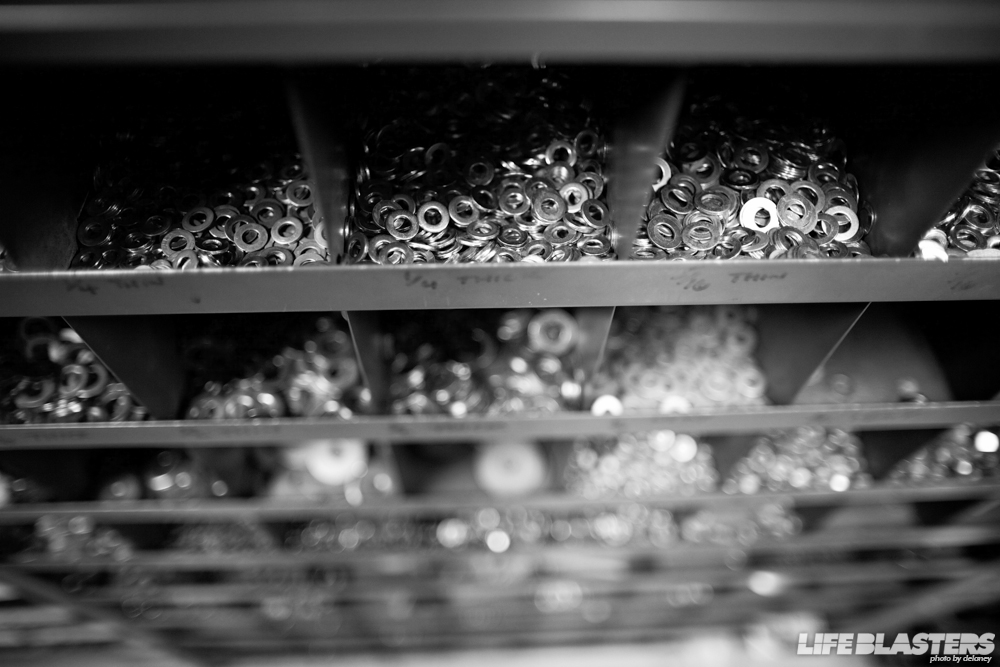 Another room was the bits and bobs room with washers, nut and bolts. It was something right out of a James May dream with everything organized and labeled. Imagine having this as your own garage, must be nice.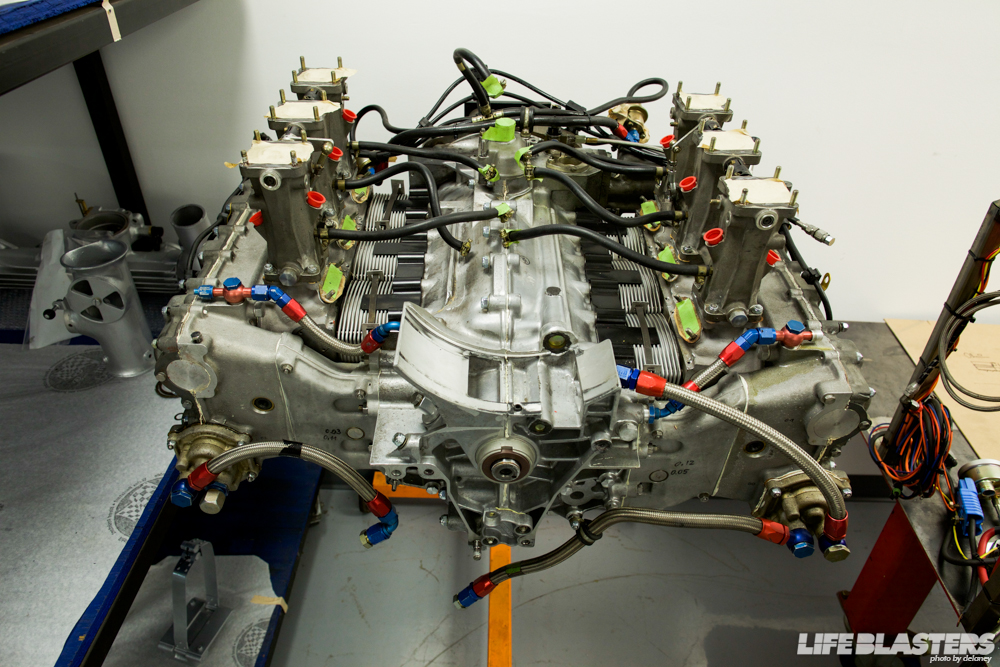 Yet another room was the engine room. This twin turbo flat six was mighty intriguing making us wonder what it must have come out of. Along with this, there was a motor with mostly brass work that had to be from around the '20s or earlier that was in for a full rebuild. Along with the motor, a piston from a remake of the Barney Oldfield Firestone car from 1916, when it became the first car to lap the Indianapolis Speedway at over 100mph. The piston itself was at least 6 inches across. The car itself was destroyed in the late 1910s, so it's a race to finish the car by 2016 where it will be allowed to make some laps before the Indy 500 to commemorate the record.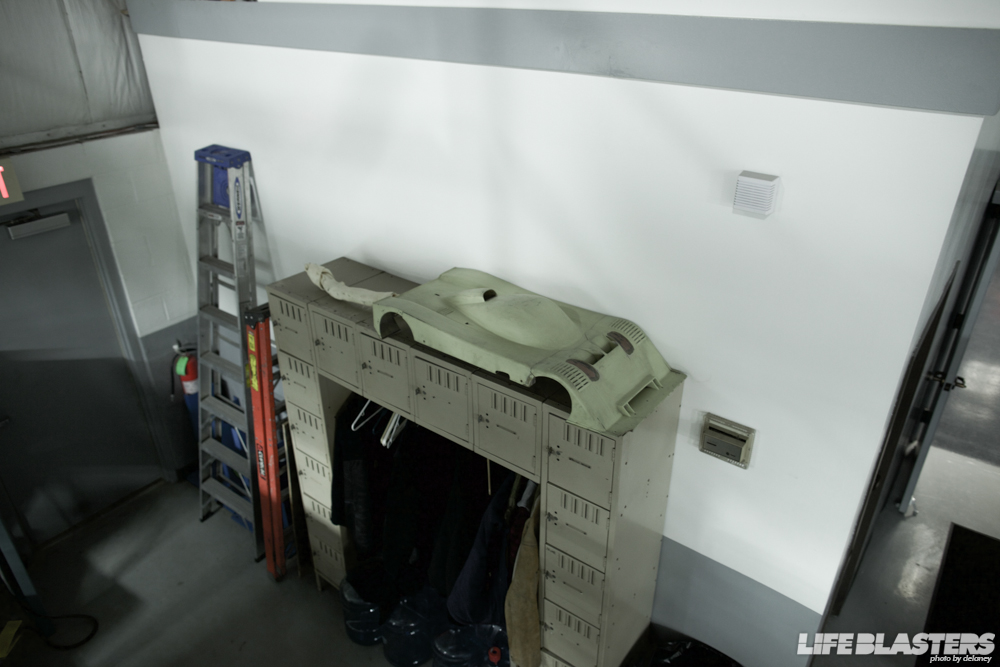 There seemed to be things stacked everywhere you looked. On top of some lockers was this scale model of a prototype that looks like it might even have been a test for a Riley and Scott closed cockpit car.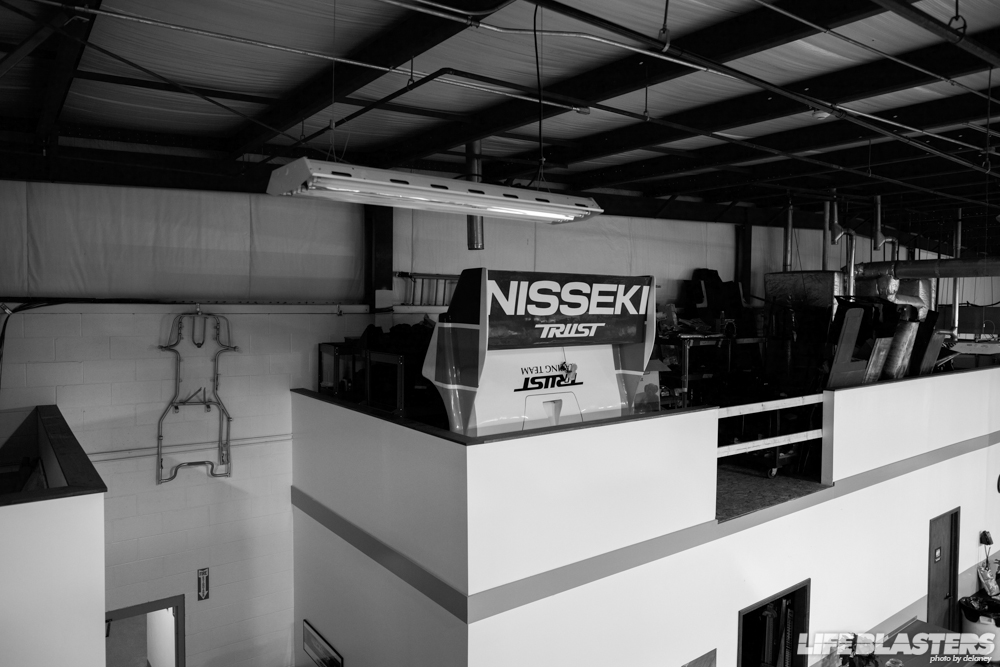 This Nisseki Trust Porsche 962 rear cover really piqued my interest. While I can't complain since getting to have look over the Shadow and the Sunoco Lola, I would have loved to see a 962 mixed in too.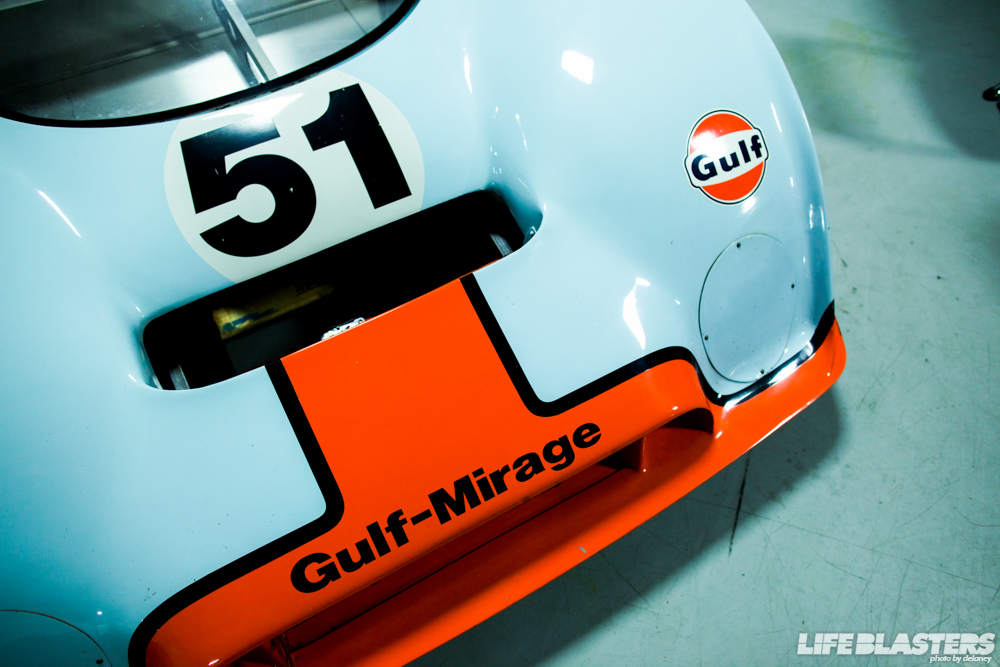 Based off the 962 rear piece, the turbo fans, wheels, turbos, it amazes me what must go through these doors within a year. I've always wanted to get a peek inside, and this only made me now wonder even more what comes through. My story may be a little long winded and history filled, but to me that's among the best parts of auto racing. Just the idea of being surrounded by F1 cars, Indy Cars, Can Am cars, Le Mans prototypes is almost like a dream. Having a place that rebuilds cars with this quality so close to my house is just awesome. I hope to get back there again, maybe next year, and get another fill of the cars and work they'll have.
-Delaney
instagram: @lifeblasters